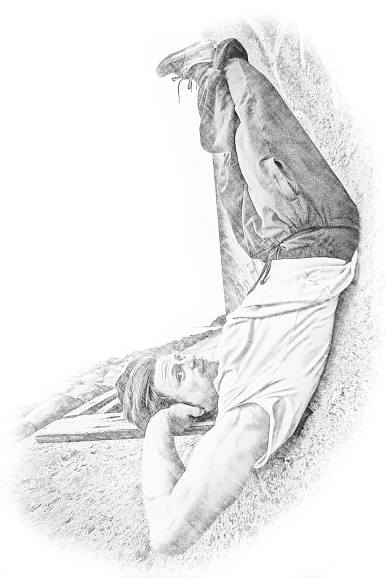 Bc. Jan "Assasin " Pospíšil
Born: July 20, 1992
Height: 169 cm
Weight: 70 kg
I have been fully engaged in parkour since 2007, which is completely unique in parkour in the Czech Republic. I mainly specialize in parkour, freeruning and acrobatics. I am also interested in many other sports and movement disciplines.
Parkour is a way of life for many and means freedom of body and mind for me. That is why I include in my training classes all kind of sports such as gymnastics, which I am coach of III. digree, and which I have been doing for over 5 years, iam also interested in swimming, climbing, breakdancing, dancing, acrobatics and other movement disciplines that naturally contribute to movement development.
I love nature and I am allways looking for alternative ways to move, which makes me known across the Czech and foreign parkour community. As well as its distinctive style and emphasis on purity and accuracy of exercise. I consider myself well rounded athlete.
Since 2012, I have been a member of the
In Motion team
, which is the most famous parkour team in the Czech Republic. Later known for establishing
In Motion Academy
. Thanks to that, I took part in several trips abroad, on which I was lucky enough to train together with many of the world's leading jumpers. Examples were Gaëtan Bouillet, Matthias Mayer, Tim "Livewire" Shieff, Slava Petin, Abel Kocsis, Alexander "Shade" Gysich, Phil Doyle, Yoann "Zephyr" Leroux, Joseph Henderson, Joe Hougaard, Kristian Kowalewski, Daniel Ilabaca, Jason Paul, Kie Willis, Stanislav "Stas" Lazdan and many others.
I am currently teaching parkour, freerun and acrobatics at IM Academy. I am one of the top ten people in the whole Czech Republic who have received official authorization to train parkour (2nd class). I am a founding member and a member of the Executive Committee of the Czech Parkour Association (ČAP). I am also a Lecturer of the Central School of ČOS (Czech Sokol Community) in the field of parkour and freeruning and I participate in the licensing of coaches III. and II. Class. In 2020, I successfully completed my bachelor's degree at the University of Jan Evangelista Purkyně in Ústí nad Labem in the field of Physical Education and Sport. I spend the rest of my time training, studying and general physical development.
Já a Parkour, já a pohyb
Parkourová historie začíná ve Francii, to lze říct bez pochyb, to kdo a jak začal dělat parkour první v dnešní formě těžko určit, protože parkour se stále rozvijí o nové pohyby, a jako takový je těžko definovatelný.
Jisté ale je že parkour vznikl z přirozené Hébertovy metody "méthodes naturelles", tedy přirozené metody, které se skládala ze základních, přirozených pohybů. Tato metoda byla bohužel za války z velké části ztracena, ale naštěstí Raymond Bell, voják a hasič který se ji učil ji předal svému synovi Davidu Bellovi, který je dnes považován za zakladale parkouru.
Parkour je tedy přirozená forma pohybu aplikovaná na prostředí, v dnešní době tedy nejčastěji městské a přírodní. Skládá se z lezení, přeskoků, dopadových technik a postupem času byla obohacena o mnoho dalšího jako je kupříkladu akrobacie.
Pro mě je parkour pohybová disciplína bez hranic, podobně jako pro někoho může být gymnastika, breakdance, tricking a další podobné pohybové disciplíny. Pravdou zůstává že tyto disciplíny se velmi úzce prolínají a tvoří jednu velkou skupinu, která by se dala nazvat jako pohyb. Je tedy pravdou že na vyšší úrovni většina lidí přestává s rozlišováním a stejně jako já říkají že se věnují pohybu.
Sám tedy vyučuji mnohé, nejen parkour, ale i akrobacii a další pohyby s parkourem a freerunem spojené. Tato oblast je, velice složitá, komplexní a obsahuje mnoho, a tak je určená veškeré populaci, která má zájem na svém pohybovém rozvoji, nebo udržení tělesné kondice.
Parkour je tak těžký, jaký ho chcete mít. Takový jaký si ho uděláte.
---